I'ts hard to believe it is Fall already. Last week it was in the 90's. I'm ready to bring out my sweaters, bake some pumpkin muffins and drink cider. I might put those things on hold until the weather cools off. In the mean time I wanted to get into Fall gear. I love fall the best out of all 4 seasons.
Lori and I were discussing the windows at The Quilt Barn and we came up with 2, if I do say so, great ideas (the second idea will be posted later this week or next and I am super excited about it too).
The black cheater quilt turned out so great we knew it needed to go on the bed. Black is so chic and a great fall color, I think. It needed a pop of color and nothing is more fall than orange. I would have loved to have made a queen size quilt for my bed but time was not on my side.
Along the top of the iron bed is a bunting flag using fabric and vintage ric rac.
I struggled with what pattern to use for the bed runner. The fabric was easy. I just went around the store and pulled every orange bolt. Not all made the cut and I ended up with 13 different half yard cuts.
I ended up making up a Courthouse Steps as the pattern and added a squares strip around the outside. What do you think?
I have a soft spot for these crocheted lovelies. If I can think of a way to use them every season or occasion I do. And I did this time. I bought some orange liquid dye (not easy to find in a BSU loving town) and had plans of dying a doily as a pumpkin. I ended up finding an orange one so the dye got put aside for another project. I might add a little green wool stem.
The fabric pumpkin is a project idea taken from some Country Living inspiration.
We have a few more ideas for this window but I wanted to show you what we had done today.
These projects were so fun and easy that I am going to show you how to make them. Everyday th
is week I will share how to make these fun fall projects. Make sure to check back.
I am linking up here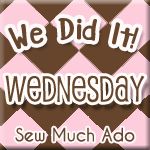 The Creative Girl
Sew Can Do
The House in the Roses
So Very Creative
Someday Crafts
Creations by Kara